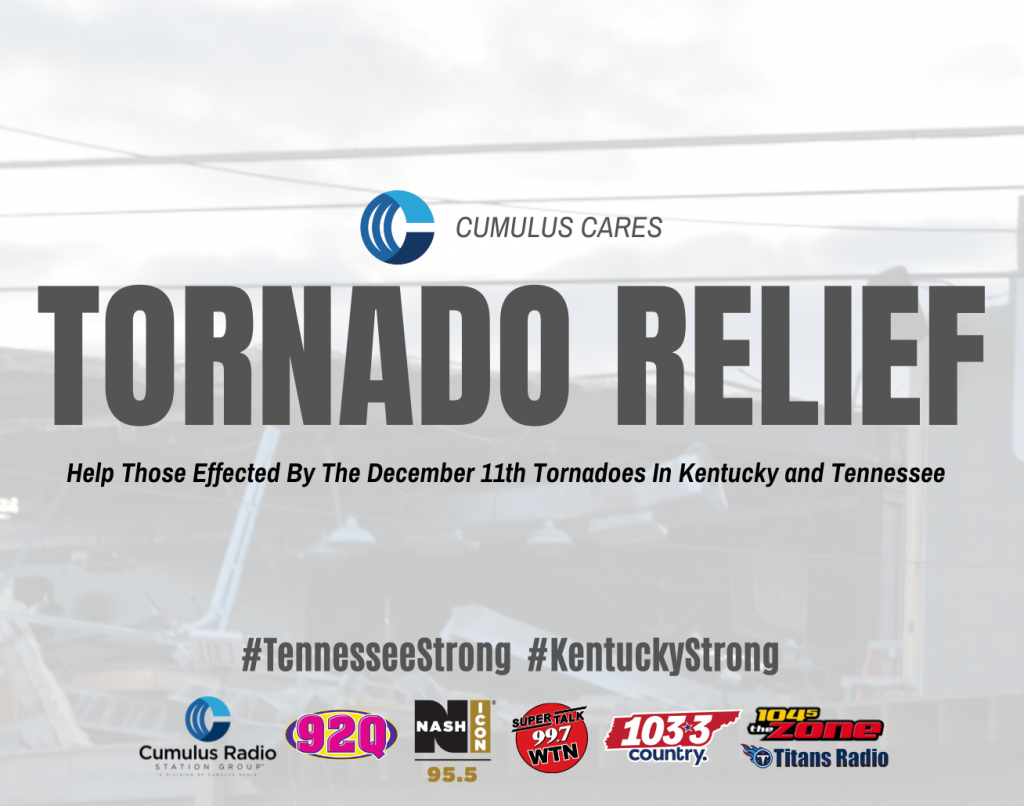 Our thoughts and prayers are with everyone effected by the storms through the Midwest and South on the early morning of December 11, 2021.
As the volunteer state, we are all wondering how we can help. We've created a collection of resources on how you can help those in need or get help for yourself or those effected.
Please be careful and stay safe. Please stay off the roads in effected area and let first responders do their jobs.
If your power is out in the Nashville area, report is to NES Power.

Text "OUT" from your mobile device
Quickly report a power outage by texting "OUT" to 637797 (NESPWR). Customers who have not signed up for interactive text messaging with NES can register here.
Call 615-234-0000
You will need the NES account number, meter number or phone number associated with your account for the system to recognize your outage.
If you are interested in supporting the relief efforts for the December 2021 tornado survivors in Middle Tennessee, please make a gift to the Middle Tennessee Emergency Response Fund.
The Community Foundation of Middle Tennessee has activated the Middle Tennessee Emergency Response Fund to support the affected communities and nonprofits helping victims address their ongoing needs.
Give to the Middle Tennessee Emergency Response Fund.
Governor Beshear has established the Team Western Kentucky Tornado Relief Fund to assist those impacted by the tornados and the severe weather system on December 11, 2021.

All donations to the Team Western Kentucky Tornado Relief Fund are tax-deductible and donors will receive a receipt for tax purposes after donating. If you wish to donate to the Relief Fund, please select an amount and click on the donate button below.
Give to the Western Kentucky Tornado Relief Fund.
The American Red Cross and our partners are working around the clock across multiple states to help those in need and make sure everyone has a safe place to stay, food to eat, critical relief supplies, emotional support and comfort in the face of one of the most devastating tornado outbreaks in years.
At least 24 tornadoes ripped across six states in the dark of night, impacting people in Arkansas, Illinois, Indiana, Kentucky, Missouri and Tennessee. Initial reports show that some communities have suffered significant damage with homes and buildings destroyed, and hundreds of thousands of people left without power.
Several emergency shelters are open to provide comfort for people who can't return home. As the weather clears, Red Cross volunteers will be out in affected communities assessing the damage left behind to help determine the types of support people may need in the coming days and weeks.
To make a financial donation or schedule an appointment to give blood or platelets, visit redcross.org or call 800-RED CROSS. You can also use the Red Cross Blood Donor app or text the word REDCROSS to 90999 to make a $10 gift today.
Those interested in volunteering can express interest at the button below. As individual cleanup projects are identified, they will be added to this site. We will share news and updates with you as soon as we know more.
Find Volunteer Information at HON.org.
To donate goods: Community Resource Center (www.crcnashville.org/) is the official agency for product donation.
If you need a safe place to go, here is a list of open Red Cross shelters:
Nashville – Centennial Sports Plex, 222 25th. Ave N
Nashville – Smith Springs Commuinty Center, 2801 Smith Springs Road
Lebanon – Highland Heights Church of Christ, 505 N. Cumberland St.
Website: American Red Cross
Phone: 615-250-4300
To donate food visit Second Harvest Food Bank: https://www.secondharvestmidtn.org/act/donate-food/host-a-food-drive/
Metro Animal Care and Control (MACC) is closed for adoptions to the public today. They will be focusing their efforts on emergency dispatch, injured animals, and lost & found efforts. If you have found a stray animal, and have that animal contained, Metro is asking you to call: 615-862-7928. Please leave a message if no one answers as their call volume will be increased. If you have lost your pet, complete a 'Lost Pet' report located on MACCs website or Pet Harbor. Also, be sure to post in your local Facebook or Next Door pages.
Website: https://www.salvationarmynashville.org/
Phone: 615-242-0411
Website: http://tn211.mycommunitypt.com/
Phone: 211