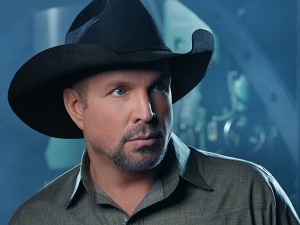 Garth Brooks has been performing all over the globe since September 2014 on his World Tour, but there's been one city notably missing from his itinerary: Nashville.
That, however, may soon change.
Unconventionally, Garth has announced the cities on his tour one-by-one, rather than all at once. Typically, a series of shows in a city is announced to great fanfare on Brooks' social media platforms, around 6-10 weeks prior to the show dates. In situations where demand for tickets has been high, additional shows have been added, giving as many fans as possible the opportunity to attend at least one of the shows.
In a recent interview with Nashville's WKRN-TV, Brooks revealed that he has always envisioned Nashville as the final stop on his tour, and that the tour may come to a close in Fall 2017. If so, putting two-and-two together, we can infer that Garth's World Tour – which also features his wife, Trisha Yearwood – will finally arrive in Nashville later this year. Brooks did not hint at any specific dates or venue in the interview. It's likely that the show or shows would be Bridgestone Arena, as almost all of Garth's tour stops have been indoors… however, he performed two shows at Yankee Stadium in New York City last summer, one of which was delayed by a thunderstorm. A fall date at Nissan Stadium would be unlikely, however, due to the building's use as home of the Titans and TSU Tigers football teams.
Although the tour has been absent from Music City, Brooks has been no stranger to Nashville in the past few years. He has performed at various benefit shows, played an invitation-only concert at the Ryman Auditorium, appeared at the Randy Travis tribute show earlier this month, and celebrated his seven RIAA Diamond Awards with a free concert at Ascend Amphitheater last year in conjunction with the Tennessee Department of Tourism.
Garth Brooks last performed a full concert in Nashville in December 2010, when he played nine shows at Bridgestone Arena to raise money for victims of the historic floods earlier that year.